Valley Springs Spa offers massage therapy, halotherapy (salt room), facials, chemical peels, hair removal, and dermaplaning, .  
Booking Special Events or Multiple Appointments
Reservations for two or more people must be made with a credit card.  You will be billed the full treatment price for all treatments scheduled if you fail to show for your appointments or do not cancel at least 24 hours prior to your appointment time.
Prices subject to change without prior notice.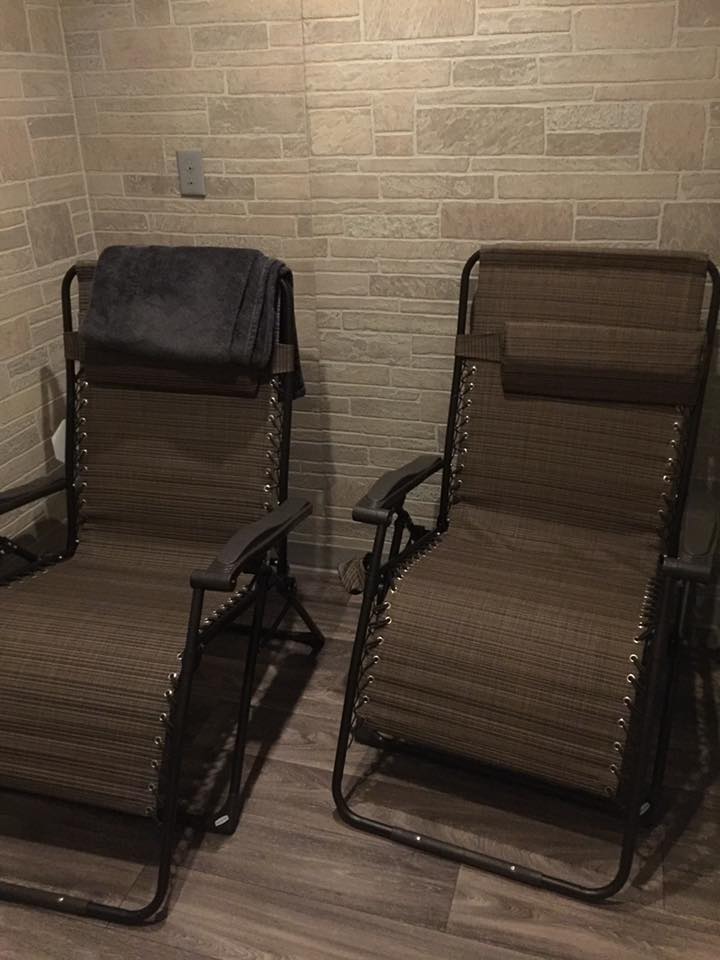 Inhalation of dry salt  helps with respiratory issues and skin conditions, enhances athletic performances, boosts the immune system, and improves an over all sense of well being! Everyone who breathes, young and old, benefit from regular visits to the salt room also called halotherapy..
Call today or schedule online. 
45 minute session for $15 for one person  $25 for a couple. 
Children 17 and under are free with paying adult.
Massage Services
Swedish Massage – Gentle, flowing strokes sooth away the stresses of the day and brings the body into a relaxed, balanced state. 60 min.  60.00; 90 min.  80.00
Integrative Massage – Using a combination of soothing Swedish massage, acupressure, trigger point therapy, stretching and deep breath work, the muscle tissue is encouraged to relax and release tension and stress that calms body, mind and spirit. 60 min.  60.00; 90 min.  80.00
Tension Relief Massage – Focusing on the common tension holding areas of the head, neck, shoulders and back this treatment utilizes specific techniques to stretch, lengthen and loosen muscle tissue to increase circulation, flush toxins and relieve joint restrictions. 30 min.  30.00; 60 min.  60.00
Deep Tissue Massage – Massage techniques designed for those who prefer a more therapeutic massage. Not recommended for first-time massage. 30 min.  40.00; 60 min. 70.00; 90 min.  90.00
Pre-natal  Massage – Nurture yourself with our relaxing Swedish massage that focuses on relieving tension in the hips and lower back. 60 min.  65.00; Clients must be in their second or third trimester and experiencing no problems. 
 Focus on the Foundation Massage– Designed to open the energetic pathways of the body by working through pressure points on the feet with the focus on massage.  30 min.  30.00; 45 min.  45.00  (The 45 minute does include a massage of the calf muscles)
Skin Care Services
A beautiful complexion begins with good skin care! All facials are customized to suit the specific needs of your skin using Rx Systems.
 Brow Tint – several  shades to choose from. – 15 
 Lash Tint – gives a more polished look without heavy make-up. – 15
Lash Lift and Tint-curl, lift, and shape natural lashes from the root to the tip.  Creates a longer lifted appearance that opens up the eyes 65
On The Go Facial – A soothing, healing treatment. Rejuvenating skin cells. Cleanser, toner, exfoliation, and light massage leaves skin feeling refreshed.  35
Deep Cleansing Facial – This facial is for any skin type and includes: thorough cleansing, steaming, exfoliation, massage, necessary extractions, mask, and sun protection. Products used will be customized to each individual's skin needs. 60
European Facial – Relax and feel stress disappear with this classic facial that incorporates massage for the face, neck, decolletage, and shoulders, to stimulate and restore vitality. 50
Rosacea Therapy- Gentle Rosacea Therapy is designed to remove damaged and dead skin cells while normalizing complexion, without harming sensitive skin with increased redness.  Restores normal enzymatic activity, rebalances the skin's pH, and intensely moisturizes the skin on a cellular level which improves skin redness and sensitivity associated with rosacea.      Acne Rosacea Therapy- clogged pores are opened and cleaned while skin sensitivity is reduced.    60 
Teen Facial-Licious – Designed for younger skin. A deep cleansing, yet gentle facial. Easy instructions to care for teen skin included. Emerge with a glowing complexion. 45
Purifying Back Facial – For the hard to reach places. This treatment hydrates and opens pores. Light massage for circulation.  Extractions if needed.  Finish with relaxing Hot Stones. 60
Diamond Tipped Microdermabrasion – A noninvasive skin resurfacing procedure that gently exfoliates or polishes away the top layer of dead skin cells, while stimulating collagen growth, to reveal healthy new skin that looks and feels smoother.  Fine lines, blemishes, dull skin, and sun spots can be improved, especially with regular treatments.  Products such as moisturizers, creams, and lotions are more easily absorbed and therefore more effective after a microdermabrasion  treatment.   40 per session
Dermaplaning-A precise, elegant, and highly effective superficial exfoliation of dead skin cells.  The bonus of a dermaplaning treatment is the removal of vellus hair (peach fuzz)  to reveal smoother skin.  You will love the feel of your skin.    75
 Non Surgical Face Lift- Procedure is designed to improve the appearance of aging and sun damaged skin through products scientifically formulated to stimulate exfoliation, increase skin cell growth, and increase collagen. The results – minimal discomfort and downtime, improved skin texture and tightness, improved skin color, lightening of brown spots, decreased pore size and a decrease in the appearance of fine lines and wrinkles.  80
Glycolic Peel – A chemical form of exfoliation that diminishes the appearance of fine lines and wrinkles, exfoliates dead skin cells, stimulates collagen production, visibly reduces blemishes and pore size, and improves skin density and firmness. 40 per treatment
Brightening Peel- This innovative peel will brighten skin tone and firm the skin to a younger, healthier appearance.  The best results are achieved when done in a series at 4 week intervals.  60
Jessner Peel-For all non-sensitive skin types who have already had  peels or microdermabrasion treatments but want to take anti-aging results to a deeper level. Benefits: Significantly reverses the signs of aging and/or treats resistant, impacted acne.   100.00  1-Layer  150.00 for 2-4 Layers   200.00 for 5-7 Layers     40 for Spot Treatment
Gentleman's Facial-Cleanser, toner,exfoliation and light massage. Customized to the skin type.50
Young Man's Facial- Deep cleansing and instructions on how to care for skin. Designed for the younger skin. 45
Waxing Services
For less irritation and redness it is recommended to take an antacid two hours before your appointment.
Body hair must be 1/4″ in length for effective waxing.   If over 3/4″, trimming will be required prior to waxing.  If you prefer for our esthetician to trim the area, the charge will be 10 for every 15 minutes.  
Brows – 12.00                   
Brow shaping and wax – 20.00  
 Lip – 10.00
Full Face –30.00
Under Arms – 15.00
Lower Arms – 30.00
Full Arms – 50.00
Lower Legs – 35.00
Upper Legs – 35.00
Full Legs – 60.00 
Bikini – 30.00 
Modified Bikini – 45.00 
Chest – 40.00 
Back – 45.00 
Stomach – 10.00 
Spa Enhancements
Eco-fin – Slip your hands and feet into muslin sleeves filled with a warm, aromatic paraffin alternative. Relax while nourishing Eco-fin moisturizes dry skin and soothes tired muscles, your hands and feet will emerge renewed and silky soft.  Can be added to any facial treatment, nail treatment  or 60 or 90 Minute massage.  
Hand and Foot Indulgence – 20 per treatment
Hands only or Feet only: 10 per treatment
Massage Enhancements-  
 Each service is a part of your scheduled treatment and does not add additional time to your service.
Enhance any 60 or 90 minute massage  treatment with:  
Scalp Refresher – Let the days cares drift away as you enjoy the refreshing tingle of peppermint and an invigorating head massage. – 10
Foot Massage – Give your tired, aching feet a much needed rest with a foot massage treatment. – 10
Hot Stone Muscle Melter – Melt away stress with a hot stone massage of the neck and back.- 10
Skin Care
Restorative Eye Firming Treatment – Reduces puffiness and fine lines in the delicate eye area. 30 min.  25
Dark Circle Eye Therapy- Reduces dark circles and fine lines in the eye area.  30 min.  25
      Recommended Frequency: Every 2 to 4 weeks until the maximum benefit is achieved.  Maintenance Therapy: Every 1 to 4 months based on individual responses to clinical benefit.   
Seasonal Services